CUMFY® Bundle Solution
Margherita
CUMFY® Bundle Solution
Webb has consistently, over the years, been at the forefront of innovations in our market niche and often released solutions that addressed specific challenges. Recent examples include the design and development of surge and lightning protection devices for telecoms power supply systems, the manufacturing and supply of tinned copper cable to reduce cable theft from outdoor telecom sites, and an innovative cable management system for telecommunication tower optimisation.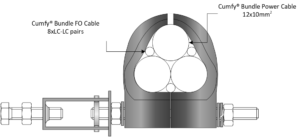 Problem: There is an increased occurrence of theft of copper cable from base station installations.
Solution: Webb now offers a full range of class 5 tinned copper cables in sizes from single-core 16mm²; 25mm²; 35mm²; 50mm² and 70mm² cables. These cables serve the Telecommunications
Industry's DC power applications and grounding (lightning surge protection) needs. Blue and red DC cables meet SABS 1547 standards. They are insulated with an inner nitrile PVC bonding layer
and an outer PVC coloured layer and offer excellent "double insulated" resistance to water ingress. The green/yellow standard for earth cable is available in 16mm2 and 70mm2 with a single bonding and outer layer of coloured PVC intentionally designed for high current lightning surge dissipation to grounding systems.
Benefits: Using the new tinned copper cables reduces incidences of theft and provides the tower operator increased flexibility.
Problem: An increasing amount of active equipment is mounted directly on the towers and close to the antennas. Modern telecom networks require several different antennas and associated radio equipment on every tower, which increases the load in terms of power and communication cables that must be accommodated. More equipment on the tower means more wind loading on the tower structure. This genuine issue and safety factor required innovation to reduce the wind loading created by individual power and fibre cable runs to the ever-increasing equipment
count on towers.
Solution: The above trends prompted Webb's design team to design and implement an innovative end-to-end tower optimisation solution.
Webb's Cumfy® Bundle PTTA-FTTA Solution – 18 x 10mm² pairs for DC power and 24 x duplex/single-mode fibre optic pairs in a cross-section profile of only 63mm. The solution is a complete package, offering the following:
• DC power cable bundle, six pairs by 10mm² x 3 for 18 pairs
• Fibre Optic Bundle 16 fibres in a rugged outdoor main body cable factory terminated and tested into 8 x LC duplex 3m armoured patch cable pairs at each end.
• Spare and slack FO cable management: tower top kit
• All tower mounting clamps for the cable run
• Tower top DC power cable termination and distribution units
• FO split gland and optional slack cable management for entry ground-level outdoor cabinets or shelters.
The diagram (bottom left) shows a close-up view of the Cumfy® Clamp solution. The total cable bundle has a cross-section of 63mm while allowing power and signalling connections to up to 9 RRUs.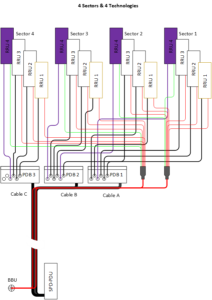 The above diagram shows the layout and capabilities of the solution.
Benefits: The Webb Cumfy® Bundle Solution meets the objectives and provides:
• A very low wind loading factor for multi-sector/multi-technology sites
• Easy and cost-effective installation
• Minimal site technology upgrade time and cost
• Neat and aesthetically pleasing installation
For more information, please contact us on +27 11 719 0000 or [email protected].
Or connect with us via LinkedIn: https://www.linkedin.com/company/webbindustries
Webb would be delighted to be given an opportunity to present the entire solution to interested parties.