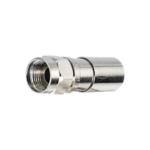 Connector RG-6 F Male Compression Nickel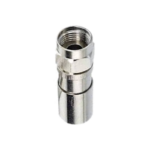 Connector RG-6 F Male Compression Nickel
R46.00 incl VAT
R46.00 incl VAT
Compare products
Compare products
Description
Additional information
Description
RTQ™ XR™ Connector RG-6 F Male Compression Nickel
The RTQ™ XR™ Xtended Range F connector works on RG-6 coax cables. One connector handles RG-6/RG-6 Quad/RG-6 Plenum and RG-6 Quad Plenum, which enables the installer to carry a single connector when working with multiple cable types.
The RTQ™ series of connectors feature all brass exteriors and a patented compression sleeve. The F connectors
incorporate an inner O-ring for a robust weather-proof connection suitable for just about any application – indoors or
outdoors for installations from 5 MHz to 3 GHz, including CATV, satellite, HDTV, and other A/V-based applications.
All RTQ™ XR™ and RTQ™ connectors require a standard 1/4" x 1/4" cable preparation and are permanently attached
to the cable using the IDEAL OmniSeal™ Pro XL or LinearX®3 compression tool.