WEBB's PARTNERS
flickerleap
Webb partners with the world's leading telecommunications ancillary product vendors to deliver the best quality components and ensure that your network operates optimally.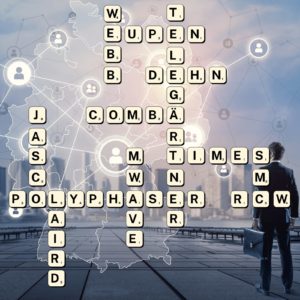 TELEGÄRTNER
Telegärtner manufactures connectivity solutions for radio, coax and data networking projects.
TIMES Microwave Systems
Times specialises in high-performance coaxial cables, connectors and cable assemblies for military, aerospace, telecommunications, industrial RF and microwave applications.
EUPEN
Eupen is a manufacturer of high-quality cables for use in demanding tower environments.
POLYPHASER
Polyphaser is the Webb partner that provides high-quality lightning- and surge protection devices.
SMC HILOMAST TELESCOPIC MASTS
Pneumatic masts (Hilomasts) are robustly constructed from heat-treated aluminium alloy materials to withstand adverse field conditions, including extreme climatic variations and environmental changes.
mWAVE
Mwave provides antenna solutions covering frequency ranges of 100 MHz to 110 GHz – specialising in parabolic antenna, millimetre wave solutions and wideband feeds.
COMBA Telecom Systems
Comba specialises in infrastructure and solutions for mobile operators to enhance and extend their wireless communications networks. Their offering includes in-building and outdoor solutions engineered to exact standards to maximise mobile networks' operational efficiency for GSM, CDMA, 3G, and next-generation network systems.
LAIRD
Laird simplifies wireless connectivity with leading modules, antennas, and IoT devices.
RCW
RCW provides radio communications and security-related equipment. They are the sole African representative for leading brands such as NOVA.
JASCO
Webb is a trademark of Jasco Communications. Jasco is a technology and solutions partner providing a range of end-to-end converged ICT offerings for carriers and enterprises across the telecoms, communications, security and other sectors.